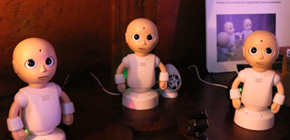 Conversational systems based on research regarding communication with robots developed
New technology can be used in human-robot as well as interpersonal communication
A research group at Osaka University led by Hiroshi Ishiguro (Professor, Graduate School of Engineering), Yuichiro Yoshikawa (Associate Professor, Graduate School of Engineering), and Kohei Ogawa (Assistant Professor, Graduate School of Engineering) together with Nippon Telegraph and Telephone Corporation (NTT) developed three types of conversational systems for communication between humans and robots.
(1) Autonomous conversation system for androids, which enables a teleoperated android (human-like robot) such as Geminoid HI-4, an android that looks very much like Prof. Ishiguro, to have a conversation with no operator.
(2) Social conversation system sensitive to user's attitude, which enables a Social Conversation Robot "CommU," a table-top humanoid robot intended to provide users a sense of conversation by involving them in conversations between robots, to be sensitive to simply whether the users are positive or negative.
(3) Touch Panel Talk System, a conversation system using touch panels with the function to speak the utterances the user selects, by which users can have a natural conversation in a situation where voice recognition hardly works; usable not only in conversations between robots and humans but also between humans.
All of the systems are on the basis of research on human-robot communication that the group has been conducted under the project called JST ERATO ISHIGURO Symbiotic Human-Robot Interaction project (http://www.jst.go.jp/erato/ishiguro/).
The group will disseminate them by further exemplification in ordinary environments. Touch Panel Talk System is particularly expected to be used widely as a new tool for communication because it provides a way to communicate in situations with difficulties of voice communication, such as noisy medical environments or other kinds of services.
The systems have been revealed in South by Southwest (SXSW), an annual trade show held in Austin, Texas, USA in mid-March. In the world's largest trade show, Prof. Ishiguro, Assoc. Prof. Yoshikawa, and Asst. Prof. Ogawa together with Ryuichiro Higashinaka (Senior Research Scientist, NTT) appeared on the platform and gave detailed explanations on the systems and technologies used in them.
Autonomous Conversation Android System, Yes/No Sensitive Social Conversation System, Touch Panel Talk System
Social conversation robot CommU
Prof. Ishiguro, Assoc. Prof. Yoshikawa, Asst. Prof. Ogawa, Dr. Higashinaka (Left to Right)