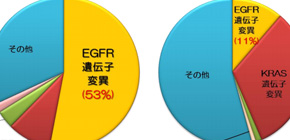 Gene region for determining susceptibility to the development of LADC with EGFR mutation discovered
Involvement of six gene regions including HLA genes responsible for immunity
Lung cancer, a refractory cancer, is the leading cause of death in cancers, claiming the lives of some 70,000 Japanese and about 1.35 million people around the world each year. Of lung cancers, lung adenocarcinoma (LADC) is the most likely to develop, and the number of patients is on the rise. LADC is less associated with smoking, a risk factor for lung cancer (its relative risk rate is double), with about half of the patients being non-smokers.
It is known that there are racial/ethnic differences in the onset of LADC, and it is reported that East Asians have a higher risk of developing LADC than Westerners. Furthermore, the frequency of epidermal growth factor receptor (EGFR) mutations is some 10 percent for Westerners, whereas Japanese have a quite high frequency of about 50 percent, suggesting that the risk factors may be particularly high for the East Asian population.
A group of researchers from the National Cancer Center, RIKEN, the Aichi Cancer Center, Akita University, Osaka University, Kyoto University, Gunma University, Shiga University of Medical Science, The University of Tokyo, and the Kanagawa Cancer Center, discovered the gene region determining the susceptibility to the development of LADC with EGFR mutation, which accounts for nearly half of LADC in Japan and is found frequently in non-smokers, women, and young people. This region contains two gene regions responsible for immunity, suggesting that individual differences in response to cells that caused mutations in EGFR genes might determine the susceptibility to the development of the disease.
A genome-wide association study (GWAS) was conducted for some 700,000 gene polymorphisms (individual differences) across the human genome of about 3,000 patients with LADC with EGFR mutations and about 15,000 individuals without cancer. As a result, this group clarified that individual differences in the six genetic regions determined the susceptibility to the development of LADC with EGFR mutation. The human leukocyte antigen (HLA) class II region, which causes individual differences in immunity response, was found in these 6 regions.
This group's achievement showed that the susceptibility to the development of LADC with EGFR mutation, which is found frequently in East Asians including the Japanese population, is related not only to environmental factors such as smoking, but also to individual differences in genes. From these findings, it is anticipated that it will become possible to predict individuals who have the susceptibility to the development of LADC with EGFR mutation (high risk populations) and detect this disease early through checkups. It is also hoped that this will lead to the clarification of a pathogenetic mechanism of LADC.
Lung adenocarcinoma driven by somatic EGFR mutations is more prevalent in East Asians (30–50 % ) than in European/Americans (10–20 % ). Here we investigate genetic factors underlying the risk of this disease by conducting a genome-wide association study, followed by two validation studies, in 3,173 Japanese patients with EGFR mutation-positive lung adenocarcinoma and 15,158 controls. Four loci, 5p15.33 (TERT), 6p21.3 (BTNL2), 3q28 (TP63) and 17q24.2 (BPTF), previously shown to be strongly associated with overall lung adenocarcinoma risk in East Asians, were re-discovered as loci associated with a higher susceptibility to EGFR mutation-positive lung adenocarcinoma. In addition, two additional loci, HLA class II at 6p21.32 (rs2179920; P = 5.1 × 10 −17 , per-allele OR = 1.36) and 6p21.1 (FOXP4) (rs2495239; P = 3.9 × 10 −9 , per-allele OR = 1.19) were newly identified as loci associated with EGFR mutation-positive lung adenocarcinoma. This study indicates that multiple genetic factors underlie the risk of lung adenocarcinomas with EGFR mutations.
To learn more about this research, please view the full research report entitled " Association of variations in HLA-class II and other loci with susceptibility to EGFR- mutated lung adenocarcinoma " at this page of the Nature Communications website.