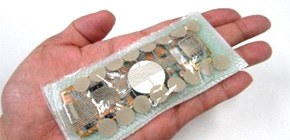 A palm-sized patch-type brain sensor with measurement accuracy similar to large medical equipment developed
Observations of brain condition can be made anytime, anywhere
The Osaka University Center of Innovation (COI), under the support from COI program by The Japan Science and Technology Agency (JST), has proceeded with academic-industry cooperation projects in the fields of medicine, brain, science, and engineering with the aim of realizing "Super Nippon-jin (Japanese)" who can fulfill their potential (utmost capability) by brain management.
The medical-brain science-engineering cooperation team led by SEKITANI Tsuyoshi (Professor, The Institute of Scientific and Industrial Research, Osaka University) and KIKUCHI Mitsuru (Professor, Research Center for Child Mental Development, Kanazawa University) succeeded in developing a patch-type brain wave sensor, which can be easily attached just like applying a cool soft gel sheet on the forehead. This is a palm-sized patch-type brain sensor with a big medical equipment-quality measurement accuracy, enabling to visualize the brain condition in real time.
Conventional measurement devices of brain waves needed to put some electrodes on the whole head of a subject. Putting such a device on the head for a long time was hard to bear, so it was very difficult to measure brain waves, especially in children.
This sensor will make it easy to measure brain waves and a large amount of data obtained through this sensor will help to clarify the casual relationship between individuals and their brain. It is expected to have a system to measure one's brain waves at home to assess their health.
Detailed technical information about the patch-type brain sensor was presented at the 2nd Wearable EXPO which was held at East Hall E22-34 at Tokyo Big Sight from Wednesday, January 13 through Friday, January 15, 2016.