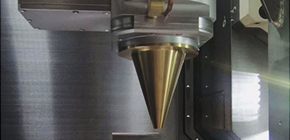 Multi-axis machine with high-brightness blue diode laser module debuts
To be applied to machining of parts used in aerospace and electric vehicle industries
In a NEDO (New Energy and Industrial Technology Development Organization) project, researchers from Osaka University, Yamazaki Mazak Corporation, and Shimadzu Corporation developed a multi-axis machine that combines metal coating technology, which uses a high-brightness blue direct diode laser module, with cutting technology. Yamazaki Mazak plans to launch sales of the machine in 2019 by reorganizing production lines.
Blue diode lasers have high absorption for metals and are adequate for the machining of gold and copper, which was difficult by conventional near-infrared (NIR) lasers. Thus, it is anticipated that blue diode lasers will be utilized as light sources for next-generation laser metal processing equipment. In particular, the aerospace and electric vehicle industries highly anticipate this multi-axis machine because it is necessary to machine copper materials, which have high thermal conductivity, in these industries. However, since conventional blue diode lasers had low brightness, they have not been mounted on machining centers, let alone laser machines.
So the group of researchers, in cooperation with Nichia Corporation and Muratani Machine Manufacture Co., Ltd, developed a multi-axis machine with a high-brightness blue diode laser module, a world first. This multi-axis machine has a multi-beam machining head with a blue direct diode laser module with a power output of 100 W and high brightness. The module was commercialized by Shimadzu in January 2018 based on the research results of the NEDO project.
In this module, an output of 300W at the focal spot position was achieved by superimposing laser beams emitted from three light laser diode light sources using multi-beam machining head technology. This high power-density is enough to melt and fuse pure copper powder, allowing for highly-efficient high-quality welding and coating of pure copper.
In addition, this multi-axis machine can perform both five-axis machining and laser machining. Since it can also easily join pure copper to different metal materials, it is possible to integrate processes with a cutting operation as well. Thus, this multi-axis machine will be used for machining components near the engine that have high thermal conductivity enhanced by coating the surface with pure copper (in order to reduce thermal resistance) in aerospace and electric vehicle industries.