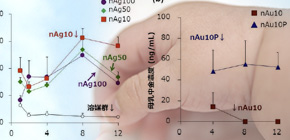 Silver (Ag) nanoparticles distribution to breast milk and effects on baby mice analyzed
Will contribute to the development of safety evaluation of nanoparticles during lactation
Breast feeding is encouraged all over the world, and more and more mothers are breast feeding their infants. Since a newborn's ability to excrete drugs is about one third of an adult's and its blood-brain barrier is immature, many cases of unexpected effects of chemicals on babies through breastfeeding have been reported. This means, in evaluating the safety of chemicals, evaluating the effects on babies through breast milk is essential.
In such a setting, recently, nanoparticles whose size is artificially prepared to 100 nm or less are being used in various products such as foods, cosmetics, and medicines, so opportunities to intentionally eat or apply those nanoparticles are rapidly increasing. Furthermore, it has been found that these nanoparticles may exhibit in vivo and intracellular behavior that differs from that of conventional materials measuring larger than 100nm. Therefore, in light of the fact that we are exposed to nanoparticles regardless of age or sex, it is essential to collect information about nanoparticles' effects on the next generation. However, their safety evaluation during lactation is scarce, including distribution of nanoparticles to breast milk.
A group of researchers led by Graduate Student MORISHITA Yuki (currently, a researcher at the National Institute of Health Sciences), Assistant Professor HIGASHISAKA Kazuma, Associate Professor YOSHIOKA Yasuo (currently, a specially appointed associate professor at the Research Institute for Microbial Diseases), and Professor TSUTSUMI Yasuo, clarified that Ag nanoparticles that are orally or intravascularly administered by mothers were distributed to breast milk and, subsequently, to a baby in mice.
In examining cases where the level of exposure was higher than realistically expected, it was demonstrated that exposure didn't affect infants' emotional and cognitive function. Furthermore, it was found that distribution of nanoparticles to breast milk could vary depending on differences in particle size and materials.
Since there is little safety information about nanoparticles during lactation, knowledge about nanoparticles' distribution to breast milk and distribution to infants through breast milk will become important in research on evaluation and research of the effects of nanoparticles on the next generation.
In addition to these animal experiments, collecting information about human maternal exposure to nanoparticles during lactation, such as their form and abundance, is important. However, it is hoped that, with this group's achievement, safety evaluation of nanoparticles during lactation will further develop.
Recent rodent studies have shown that nanoparticles are distributed to breast milk, and more-detailed safety information regarding nanoparticle consumption by lactating mothers is required. Here, we used mice to investigate the safety of nanoparticle use during lactation. When Ag and Au nanoparticles were intravenously administered to lactating mice, the nanoparticles were distributed to breast milk without producing apparent damage to the mammary gland, and the amount of Ag nanoparticles distributed to breast milk increased with decreasing particle size. Orally administered Ag nanoparticles were also distributed to breast milk and subsequently to the brains of breast-fed pups. Ten-nanometer Ag nanoparticles were retained longer in the pups' brains than in their livers and lungs. Nevertheless, no significant behavioral changes were observed in offspring breast-fed by dams that had received orally administered 10 nm Ag nanoparticles. These data provide basic information for evaluating the safety of nanoparticle use during lactation.
To learn more about this research, please view the full research report entitled "Distribution of Silver Nanoparticles to Breast Milk and Their Biological Effects on Breast-Fed Offspring Mice" at this page of the ACS NANO website.