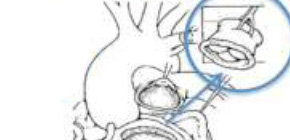 Successful transplantation of a highly durable artificial heart valve with a low risk of re-operation
A step forward toward the dissemination of heart valves
It has been reported that the use of decellularized heart valves fabricated by cell engineering techniques is less likely to cause rejection after transplantation, and cells of the recipient penetrate the heart valve, engraft, and self-organize, thereby maintaining the valve's function. Furthermore, better results in clinical practice have been achieved when compared to transplantation using conventional artificial heart valves. This means that there is a possibility that new operative methods using decellularized heart valves will be established.
Osaka University began joint clinical tests on the safety of decellularized heart valves that were harvested and fabricated in Germany in a joint research project with Hannover Medical School in Germany, conducting the first transplantation in Japan in October 2014.
When cardiac transplantation is conducted, a heart with heart valves is harvested from a recipient. Even if the patient needs heart transplantation because of a disease of the heart muscle, the heart valves function well in many cases.
A team led by Professor SAWA Yoshiki at the Department of Surgery, Graduate School of Medicine, Osaka University conducted heart valve transplantation using a native and decellularized human heart valve on a 43-year old female patient with congenital cardiac disorder and postoperative pulmonary incompetence on May 13, 2016 at Osaka University Hospital. The patient safely left the hospital on May 31, 2016.
This heart valve transplantation was conducted in a clinical research project entitled "Research on the safety and efficacy of transplantation of a native and decellularized human heart valve" at Osaka University, and transplantation was conducted for three patients, including this one.
The heart valve used in this transplantation was offered from the recipient at the time of heart transplantation at Osaka University, and this is the first clinical case of transplantation using a heart valve provided in Japan.
The use of native and decellularized heart valves is less likely to cause rejection after transplantation, so it is expected that this method will reduce the necessity of re-operation compared to the use of other devices. The use of decellularized valves using heart valves harvested at the time of cardiac transplantation from a brain-dead donor is thought to be very important in terms of medical resources as well, achieving a step forward to the dissemination of this treatment method.