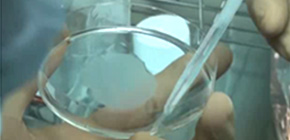 First transplantion of myoblast sheet in dilated cardiomyopathy patients in PI-initiated clinical trial
Anticipated as new cardiovascular regenerative treatment for patients with intractable diseases
On October 2014, Terumo Corporation made an application for approval of the use of their myoblast sheets for severe heart failure patients due to ischemicmyocardial disorder. In order to expand the use of these sheets to adult dilated cardiomyopathy patients who were not targeted in the industry-initiated clinical trial, Osaka University Graduate School of Medicine started a PI (Principal Investigator)-initiated clinical trial in December 2014 under the support from two projects: Research on Regenerative Medicine for Clinical Application of The Japan Agency for Medical Research and Development (AMED) and Early/Exploratory Clinical Research Meeting International Standards.
Myoblast sheets can be produced by cultivation from patients' muscles. Since patients' cells are used, rejection is not elicited and no severe ventricular arrythmia in animal tests and clinical practice has been reported.
The Graduate School of Medicine was involved in clinical research on the use of myoblast sheets for dilated cardiomyopathy patients. On August 25, the first transplantation of a myoblast sheet was conducted in the PI-initiated clinical trial.