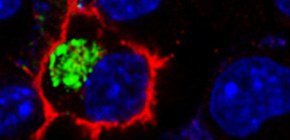 Discovery of protein involved in preventing the buildup of Amyloid-β peptide (Aβ), the major cause of Alzheimer's Disease (AD)
Conversely, stimulating the production of SORLA may turn out to be a therapeutic method!
A group of researchers led by TAKAGI Jun-ichi (Professor, Institute for Protein Research, Osaka University ) and a group of researchers at Max Delbrück Center for Molecular Medicine in Germany jointly have demonstrated that a membrane protein in the brain, SORLA, prevents the accumulation of amyloid ß (Aß) thought to be a major culprit in neurodegenerative diseases such as Alzheimer's Disease (AD). It is thought that in AD patients, Aß peptide accumulates leading to the production of Aß plaques in the brain which eventually kill the neurons. Aß is produced in the breakdown of the amyloid precursor protein (APP). Therefore, preventing the breakdown into Aß is important for the prevention and curing of AD.
Furthermore, the researchers found that there was an inverse relationship between the level of SORLA and Aß levels. Thus, it seems likely that lack of SORLA production might be related to the development of AD. Conversely, stimulating the production of SORLA may turn out to be a therapeutic method for treating the onset of AD.
This group clarified their findings by using mice in which SORLA was overexpressed. They found that increased SORLA reduced Aß in the brain by 75% and found that SORLA expression reduced and broke down Aß administered from outside. Patients with significantly decreased SORLA function developed early-onset AD, which seems to indicate that SORLA has protective effects against AD.
These researchers have clarified that humans have an innate mechanism for processing dangerous peptides such as Aß and that if SORLA production in the brain can be increased, it will reduce the risk of developing AD. Clarifying detailed functions of SORLA will further elucidate the mechanism behind the development of neurodegenerative diseases such as AD.
SORLA/SORL1 is a unique neuronal sorting receptor for the amyloid precursor protein that has been causally implicated in both sporadic and autosomal dominant familial forms of Alzheimer's disease (AD). Brain concentrations of SORLA are inversely correlated with amyloid-β (Aβ) in mouse models and AD patients, suggesting that increasing expression of this receptor could be a therapeutic option for decreasing the amount of amyloidogenic products in affected individuals. We characterize a new mouse model in which SORLA is overexpressed, and show a decrease in Aβ concentrations in mouse brain. We trace the underlying molecular mechanism to the ability of this receptor to direct lysosomal targeting of nascent Aβ peptides. Aβ binds to the amino-terminal VPS10P domain of SORLA, and this binding is impaired by a familial AD mutation in SORL1. Thus, loss of SORLA's Aβ sorting function is a potential cause of AD in patients, and SORLA may be a new therapeutic target for AD drug development.
To learn more about this research, please read the full research report entitled " Lysosomal Sorting of Amyloid-β by the SORLA Receptor Is Impaired by a Familial Alzheimer's Disease Mutation " at this page of the Science Translational Medicine website.