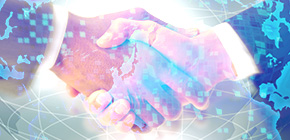 Osaka University and Eli Lilly and Company sign accord for joint research on innovative approach to prevent obesity
Osaka University and Eli Lilly and Company (Indianapolis, Indiana, U.S.A.) signed a research collaboration accord for an innovative approach to prevent obesity on August 25, 2016.
This agreement is one of the results of Eli Lilly and Company's "Innovation Day" event in Japan in September 2015, which was designed to seek partnerships with academia for joint drug-development projects. According to this agreement, under the leadership of Professor ISHII Masaru at the Graduate School of Medicine and the Lilly China Research and Development Center, Diabetes-Focused Research and Development Center in Shanghai, China, this joint group will pursue research focusing on the progression of obesity related to pathological physiology in diabetes, a prioritized area.
In this joint study, researchers will explore approaches to obesity prevention through the fusion and use of know-how derived from basic research at Osaka University and drug infrastructure at Eli Lilly and Company. Professor Ishi said, "We have clarified the progression mechanism of obesity at a molecular level. In this joint research, we'd like to substantiate treatment methods for preventing lifestyle-related diseases including obesity as soon as possible.
Bei B. Zhang, General Manager, Lilly China R&D Center and Vice President, Lilly Res. Labs at Eli Lilly and Company said, "This joint research is the direct result of Innovation Day Japan that we held last year in Tokyo for the first time. Prof. Ishii is an expert who has the know-how to elucidate obesity, which is closely related to diabetes, at a molecular level. In diabetes, particularly in Asians, there are great unmet needs which we have worked on for a long time. We expect this joint research will lead to the development of new treatment methods for preventing obesity and diabetes, both of which are on the rise all over the world."
IMAOKA Takeshi, Manager, Department of Diabetes, Lilly Research Laboratories Japan, said "Eli Lilly and Company succeeded in drug formulation of insulin for the first time in 1923. Since then, we have continued to be committed to improving diabetes treatment and making efforts in research, development, manufacturing, and sales of drugs for treating diabetes. Through collaboration with universities in Japan, we'd like to further revitalize joint research and provide patients in the world with more innovative drugs developed in Japan as soon as possible."
Eli Lilly and Company held a matching event to seek partnerships for joint drug-development projects focusing on Japanese research institutes, "Innovation Day Japan," on September 10 and September 11, 2015. They looked for drug seeds in the major fields of cancer, diabetes, Alzheimer-type dementia, autoimmune disorder, and aching pain. Applicants were required to be able to make first-in-class drugs. They imposed requirements on applicants to have verified model systems for drug testing and, if any, have hit or leading drug candidates. They complied results and discussed with companies on a shortlist toward the conclusion of joint research agreement.