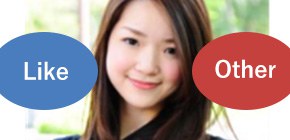 Artificial intelligence to predict people's preferences developed
Computers predict marketability of products
A group of researchers led by YAMAGIWA Shin'ichi (Associate Professor, University of Tsukuba) and KAWAHARA Yoshinobu (Associate Professor, The Institute of Scientific and Industrial Research) has developed technology for predicting consumers' preferences and tastes for media such as songs and images by using artificial intelligence. (Patent pending)
This technology has enabled marketing prediction about products to be brought to market according to the following process:
1. Rank existing media in the marketplace based on big data for consumers' preferences for media from big data on preferences in which respondents answered by choosing whether they like or have no strong opinion on each item.
2. Rank media products to be launched by calculating how much they are similar to existing media.
For example, as the illustration shows, this technology enables one to rank preferences for appearance by counting the number of respondents who chose "like" for multiple images.
Based on this ranking, how many images, or targets of surveillance, are similar to existing images is calculated by computers using artificial intelligence technology to get scores for all images, thereby predicting their rank order. If one image is ranked highly, it is believed to appeal to consumers' preferences.
By narrowing down big data for preferences by attributes such as time and region, it is possible to conduct surveys on temporal change in preference and preferences by country for the purpose of marketing. In addition, conducting marketing research can be done before starting a business without risking information leaks about intellectual property of the product to be sold.
Furthermore, this technology can be used for letting computers do automated calculations for determining if a product will sell well or not in cases where consumers' preferences for the product are hard to define. This technology will enable us to answer questions such as "What is the best appearance of tomatoes that will sell well?" in the field of agriculture.
Based on this group's research results, a new type of mobile app for surveying public opinions on preferences for appearance, Bijin Kagaku Kenkyusho, was released from BIJIN&Co.
To download the app, go here .