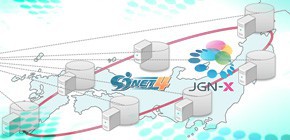 Successful building of a data backup and sharing platform
System makes use of continuously migrating vitual machine [VM]
The Distcloud Project Team, consisting of researchers at Osaka University, four other universities and three institutes, built a virtual data sharing platform in which the eight participating organizations scatter and continuously migrate a VM [virtual machine]. In this way, they achieved success in establishing a system for backup of data and active-standby configuration of such data, an ideal disaster recovery plan. That is, this system has the benefit of avoiding problems with expense, performance, and response time. Through this system, the virtual machine continually migrates backup data over a distance of some 24,000 km, more than half the earth's circumference.
To explain in more detail, with system devised by the Distcloud Project Team, data is stored at geographically scattered sites through parallel distribution storage technology which handles storage provided by multiple platforms as concentrated massive storage. Therefore, continuous data protection at the time of a disaster or during system failure at any one location and/or the quick provision of global services are available.
This technology will contribute to business continuity plans, continuous provision of administration services, as well as information control including the sharing information for disaster recovery.
(This project is headed by SHIMOJO Shinji , Professor, Cybermedia Center, Osaka University. Participating organizations are : Osaka University , Kanazawa University , National Institute of Informatics , Kochi University of Technology , National Institute of Information and Communications Technology , Nara Institute of Science and Technology , Hiroshima University , Hokkaido University )
We focused on distributed storage technologies and backing up data onto remote data centers because of growing sense of the need for disaster recovery following a large-scale disaster. Now the authors are constructing widely distributed storage environments among Kanazawa University, Hiroshima University, National Institute of Informatics (NII). This environment is characterized by high performance of random I/O access. Because every site can access the same data, IT services can be continued with live migration technology. In this paper, the authors evaluate performances of storage I/O and wide area live migration in such a storage environment.