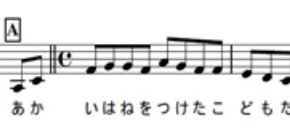 AI and Folk Duo WARAINAKI have composed a Red Feather campaign song
A song composed by AI and artists
A research group led by Professor NUMAO Masayuki at the Institute of Scientific and Industrial Research, Osaka University, and Professor OTANI Noriko at Media Studies Department, Tokyo City University, together with Warainaki, a folk duo who are active mainly in Osaka and Nara prefectures, studied automatic composition of music to suit an individual's feelings, developing an automatic composition system.
If you enter existing songs into this automatic composition system for the purpose of composing a new song to give targeted listeners specific feelings according to their tastes, the system learns characteristics common to these songs and makes songs based on these characteristics.
Since May 2016, this research group and the duo have been involved in a joint research project to compose songs based on emotional information collected from the audience of concerts in order to achieve automatic composition based on this emotional data. This project aims to compose music for enhancing a certain group's mood by extracting emotions common to members of the group.
In response to a request for Warainaki to compose a song to commemorate the 70th anniversary of the start of fundraising activities by The Central Community Chest of Japan (CCCJ) (Kyodobokin) from the social welfare corporation Kyodobokin Nara, this group used its automatic composition technology to compose the song with Warainaki.
As Kyodobokin Nara named Warainaki for the composition, this research group decided to write music with Warainaki's unique sound and in a tone to inspire listeners to thank and support others as the song to commemorate the 70th anniversary.
This group entered three songs by Warainaki, especially those expressing gratitude and support, into this automatic music composition system to write several short pieces. Based on these pieces, Warainaki arranged the melody produced by this system and added words, completing the song.
It is hoped that this new composition method for achieving joint work between AI and humans will inspire artists to write music using this new method and breathe new life into the music scene.
This song was presented at the opening ceremony to commemorate the 70th anniversary of the start of fundraising activities by CCCJ. The ceremony was held outside of the Kintetsu Nara station building on Saturday, October 1, 2016.
We propose a method to locate relations and constraints between a music score and its impressions, by which we show that AI (Artificial Intelligence) and machine learning techniques may provide a powerful tool for composing music and analyzing human feelings.
We examine its generality by modifying some arrangements and creating some compositions to provide the subjects with a specified impression. This introduces some user interfaces, which are capable of predicting feelings and creating new objects based on seed structures, such as spectrums and their transition for sounds that have been extracted and are perceived as favorable by the user.
This AI collaborates with Folk Duo WARAINAKI, and composes a Red Feather campaign song in Nara.

Figure 1. Automatic composition system that was developed
Figure 2 . Score of the music that was created (in part)