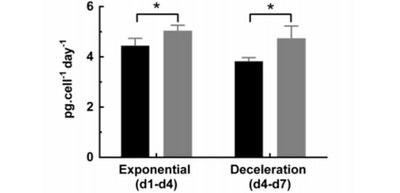 Novel technique to increase recombinant proteins by the activation of unfolded protein response signaling pathway
A group of researchers from Osaka University has increased the productivity of recombinant proteins by improving the proteins' intercellular traffic system through overexpression of the KDELR1 gene. The KDELR1 gene encodes KDEL (lysine, aspartic acid, glutamic acid and leucine) endoplasmic reticulum protein retention receptor 1, and the KDEL receptor's target chaperones have a substantial role in protein folding and assembly.
The biologics segment is seeing high growth in the recombinant proteins market and many biologics are produced using recombinant DNA technology. Recombinant protein production is a technique to express foreign genes in host cells by introducing foreign genes into the host cells.
In their previous studies, this group clarified that all of the recombinant proteins were not secreted into Chinese hamster ovary (CHO) cells. CHO is the most commonly used host system for the expression of high-quality recombinant proteins.
In this study, the researchers enhanced the productivity of recombinant IgG1 protein through the improvement of the intracellular traffic system by overexpression of KDEL Receptor 1 in antibody-producing CHO cells.
In previous cell engineering approaches, research focusing on this fundamental systems biology/biotechnology mechanism had not been performed. It is anticipated that this group's approach will improve the productivity of biologic drugs, whose sales have shown robust growth.
The article, "Improvement of Intracellular Traffic System by Overexpression of KDEL Receptor 1 in Antibody-Producing CHO Cells" was published in Biotechnology Journal at DOI: https://doi.org/10.1002/biot.201900352.
---
Related Links