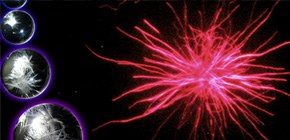 Elucidation of the mechanism behind amyloid fibrils and development of diseases such as Alzheimer's and Parkinson's diseases
Researching amorphous aggregation in terms of supersaturation will lead to treatments and prevention
A group of researchers led by GOTO Yuji (Professor, Institute for Protein Research, Osaka University) working in cooperation with Faculty of Medical Sciences, University of Fukui, and Eötvös Loránd University in Hungary, have discovered that the formation of amyloid fibrils causing a variety of diseases is associated with a sudden release of heat.
Amyloid fibrils are amorphous aggregates of proteins associated with amyloid disease such as Alzheimer's disease, Parkinson's disease, and dialysis-related amyloidosis, but the mechanism behind their development has been unknown.
Supersaturation is a state in a solution that contains more of the dissolved material than can be dissolved under normal conditions. When a supersaturated solution is disturbed by external stimulation, deposition of the disolved substance(s) starts, a process that is generally accompanied by a heat response. This group has clarified that the formation of amyloid fibrils was a heat response governed by supersaturation and the degree of solubility.
Amino acids are the basic components of proteins and proteins are hydrophobic polymer molecules. When proteins denature, protein molecules interact with each other and aggregate. Of protein aggregates, amyloid fibrils cause amyloid disease such as Alzheimer's disease and Parkinson's disease; however, why such amyloid fibrils are formed has not been clarified.
This group measured exothermic heat accompanied by the formation of amyloid fibrils with isothermal titration calorimetry. The group used ß2-microglobulin, a protein responsible for dialysis-related amyloidosis, and found that exothermic heat was produced in association with the formation of amyloid fibrils. This group quantitatively analyzed exothermic heat and established a theory of thermodynamic mechanism for forming amyloid fibrils.
This group demonstrated that amorphous aggregation is a response governed by supersaturation as is the case with crystallization and deposition of general substances and can be explained thermodynamically. Researching amorphous aggregation in terms of supersaturation will lead to the treatment and prevention of diseases caused by protein aggregates.
Amyloid fibrils form in supersaturated solutions via a nucleation and growth mechanism. Although the structural features of amyloid fibrils have become increasingly clearer, knowledge on the thermodynamics of fibrillation is limited. Furthermore, protein aggregation is not a target of calorimetry, one of the most powerful approaches used to study proteins. Here, with β 2 -microglobulin, a protein responsible for dialysis-related amyloidosis, we show direct heat measurements of the formation of amyloid fibrils using isothermal titration calorimetry (ITC). The spontaneous fibrillation after a lag phase was accompanied by exothermic heat. The thermodynamic parameters of fibrillation obtained under various protein concentrations and temperatures were consistent with the main-chain dominated structural model of fibrils, in which overall packing was less than that of the native structures. We also characterized the thermodynamics of amorphous aggregation, enabling the comparison of protein folding, amyloid fibrillation, and amorphous aggregation. These results indicate that ITC will become a promising approach for clarifying comprehensively the thermodynamics of protein folding and misfolding.
To learn more about this research, please read the full research report entitled " Heat of supersaturation-limited amyloid burst directly monitored by isothermal titration calorimetry " at this page of Proceedings of the National Academy of Sciences of the United States of America website.