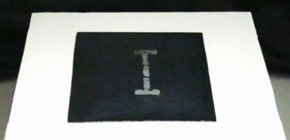 Interactive display with water condensation developed, a world first
Users can interact with images by touching it through use of water condensation as pixels
A group of researchers led by Visiting Associate Professor ITOH Yuichi, Graduate School of Information Science and Technology, Osaka University, developed the prototype of an interactive display, Ketsuro [water condensation in Japanese]-Graffiti, which uses water condensation generated on the surface of a display as a new information presentation method of surface interface.
Research on interfaces that can be operated instinctively by using multi-touch displays is currently being performed; however, touch-screen interfaces like smartphones and tablets are made of glass and the surfaces of these screens are flat, so it's difficult for users to feel that they are touching the images themselves. This group thought that it might be possible to interact with images through presentation with water condensation; for example, deleting images by touching the display or generating images by breathing on the display might be possible, just like one scribbles on condensation of car windows or glass cups.
This group studied the technology necessary for freely controlling generation, evaporation, and thickness of water condensation and methods for detecting the user's touch on the surface of a display, and implemented installation of a device for generating water condensation and evaluation of its performance. As a result, it was confirmed that polyvinyl chloride mirrors were appropriate as a material for displays and that it was possible to control evaporation and generation of water condensation by cooling the display with peltier devices. Furthermore, in order to quantitatively evaluate the ability of controlling thickness of water condensation, in experiments for evaluating thickness control, this group measured changes in degree of brilliance when the surface temperature of the display was changed. As a result, it was suggested that the degree of brilliance changed due to differences between the surface temperature and the dew point and that thickness of condensation could be controlled.
Ketsuro-Graffiti presents images through the control of temperature distribution on the surface of mirror-like plates by using water condensation as an alternative to pixels. Using this display, it has become possible to generate images in virtual reality as water condensation in a reality where people actually exist and to feel the images by directly touching them. Moving forward, this group will investigate installation of a high-resolution display, realization of high-quality interaction, and application to familiar items such as windows and mirrors.
This research was featured in the TVRSJ Vol. 21 No.3 of the Virtual Reality Society of Japan's Journal published on September 30, 2016 and was selected to the 2016 ACM International Conference on Interactive Surfaces and Spaces which was held in Canada from November 6 through November 9, 2016.
To view the video about the Ketsuro-Graffiti, click here .
We propose Ketsuro-Graffiti, a novel display that shows images with computer generated water condensation and enables users to interact them freely. Water condensation (Ketsuro in Japanese) is a natural canvas found on a car window or a glass on which we often scribble figures, illustrations, and messages. We implemented the prototype of Ketsuro-Graffiti using peltier devices, thermistors and Arduino, and evaluated the implemented prototype. The evaluation indicates the prototype can control the generation, evaporation and thickness of water condensation.
Figure 1. Ketsuro-Graffiti